USA Today Article: Aguilera's image is 'Stripped'

Christina Aguilera has a right to sing the blues. Just ask her. Sure, the 21-year-old found pop stardom seemingly overnight back in 1999, when her self-titled debut album launched the chart-topping hits Genie in a Bottle and What a Girl Wants. The subsequent smash success of her remake of Lady Marmalade— a single that also featured Pink, Mya and Lil' Kim — confirmed Aguilera's status as the hottest teen diva since her fellow Mickey Mouse Club alumna Britney Spears.



Rolling Stone Article: Christina Takes Control

What a girl wants - it turns out - is to grow up. And right now, Christina Aguilera is doing just that with a new album she's making on her own terms. "We're in the home stretch," Aguilera says of the fall release as she curls up on a couch inside a Hollywood recording studio. It's late on a Friday night in June, and Aguilera is at work with producer Linda Perry, the hot hand behind Pink's recent hits. Also collaborating with Aguilera are Alicia Keys, Dr. Dre associate Scott Storch, Glen Ballard, and Dave Navarro. 4
Read More


Jane Magazine: Christina gets 'real' on 'Stripped'

"The whole vision for this record was to be really raw and real," Christina Aguilera says, speaking by telephone from Los Angeles. "Just really baring who I really am." Bob Jamieson, chairman of the RCA Music Group, is very pleased. "She has tremendous instinct about who she is," he said. "Artists like Christina are going to be right more than they're going to be wrong." 4
Read More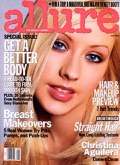 The Allure Magazine Interview: Christina Comes Clean

Christina Aguilera felt caged by her sugar pop image. As she records her new album, a darker, edgier artist is finally breaking loose.

If you think that Christina Aguilera is a diva or a power bitch - as many in America's tabloid media clearly do - she's not entirelysurprised.

"I read this story," she says, "that was like 'Christina Aguilera threw a tantrum because her room wasn't perfect.' I don't know why I got pinned with that image. I think maybe some people saw me, in the past, interacting with certain people not in a healthy, good way." Her entourage has left her room at the Mercer Hotel in New York, and now that we're alone, she seems all too happy to talk about what sets her off. 4
Read More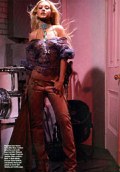 Christina Talks about Scream Threapy, First Love and more

Strip Show

"I'm not trying to do as much vocal gymnastics. Before, to make up for the kind of music I didn't want to be doing, I would over-riff, to prove that I have talent. It was too much. For this record, everything's stripped down to the bare necessities."

Scream Therapy

"[Musician/producer] Linda Perry [formerly] of 4 Non Blondes taught me not to be scared of my voice. She'd say, 'You have to stop worrying about that technical stuff, the riffing and ad-libbing. Just let go and sing - whatever comes out' She's like, 'I hear something in you. You've got this repressed, darker side.' I think it's stuff from my past - my father and stuff. One of the new songs is more rock, and Linda got me singing/screaming for the chorus, 'I just want to get away!' It's about freedom. It's finding strength in myself." 4
Read More