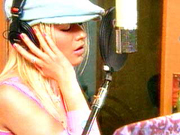 "The whole vision for this record was to be really raw and real," Christina Aguilera says, speaking by telephone from Los Angeles. "Just really baring who I really am." Bob Jamieson, chairman of the RCA Music Group, is very pleased. "She has tremendous instinct about who she is," he said. "Artists like Christina are going to be right more than they're going to be wrong."

During much of the time Aguilera was traveling the world, she started thinking about a new album. She knew she wanted to move away from her old sound and her "super-clean, cookie-cutter" image. For any pop star, especially a former teen-pop icon, individualism is a team sport. Like her first album, 'Stripped' was created by committee; the difference is that this time, she says, she's running the committee. She helped write the songs and choose the producers, and anyone with old-fashioned ideas about what the album should sound like was quickly left behind. "Certain people didn't get it, and that's why they didn't get songs on the record," she said.

To sound more like herself, Ms. Aguilera emulated her favorite singers. She fearlessly turns names into adjectives - one song has "a Jillscotty vibe," while another is "almost Johnlennony." For "Fighter," with the guest guitarist Dave Navarro, she says she tried to evoke the feeling of "November Rain" by Guns 'n' Roses.

The most brazen example of this strategy is "Dirrty," the collaboration with Redman. If it sounds a bit like the recent Redman hit "Let's Get Dirty (I Can't Get in Da Club)," that's no coincidence.

Ms. Aguilera says she called Rockwilder, who produced "Let's Get Dirty," and told him how much she liked the beat. "He made me a track that was very similar," she said. "I almost thought it was too similar." Then she decided to play up the similarity: she brought in Redman, who delivered a rap that made reference to "Let's Get Dirty" - he even recreated the ape sounds he had made on the original track.

It seems that Aguilera's biggest influence is one of her contemporaries. Pink was never as popular as Ms. Spears or Ms. Aguilera, but with 'Missundaztood,' she gave herself an appealing new sound and an appealing new persona - and those are the two things that every former teen-pop star wants. Aguilera admits to being inspired by 'Missundaztood.' She was particularly impressed by one of Pink's songwriters. "I really, really loved the Linda Perry songs," she said. "They had a really personal, real sense about them."

So she did what any ambitious singer would do: she called up Perry (formerly of the group 4 Non Blondes) and arranged a studio session. "We just clicked," Aguilera recalled, and Perry wrote a number of new songs with her. The highly anticipated "Can't Hold Us Down" is said to address the insults directed at Aguilera by Fred Durst and Eminem.

Ms. Aguilera's collaboration with Redman links her to Eminem, who has mocked her in his songs by speculating recklessly about her sex life. Two years ago, he teamed up with Redman for a song called "Off the Wall," in which Eminem raps, "Causin' terror to Christina Aguilera / When I grab her by the hair and drag her across the Sahara."

Although Ms. Aguilera says she and Redman never discussed "Off the Wall," she apparently hasn't forgotten Eminem's attacks. Don't be surprised if much of the discussion about 'Stripped' centers on "Can't Hold Us Down," a feminist anthem sung to a hip-hop beat. "Should I be quiet just because I'm a woman?" she asks, and then she berates an unnamed man: "It's sad you only get your name through controversy." Soon, the grudge match has escalated into a battle of the sexes. "The guy gets all the glory, the more he can score / But the girl do the same thing, you call her a @#%$," she sings.

It's a thrill to hear Ms. Aguilera sounding so indignant. The main curiosity with her first album was that her tough, virtuosic delivery often didn't match the meek songs she was singing - she didn't really seem like a hopeless romantic, searching "for a love to keep me safe and warm." The new material is more promising because she has vowed to keep the vocal theatrics to a minimum. "It's so not a diva kind of record," she said, while singing songs that hint at a more petulant personality.

This new attitude allows her to experiment with different genres: she has recorded a bluesy duet with Alicia Keys and a terrific rock 'n' roll-inspired track in which she runs her voice through a wah-wah pedal. Like her contemporaries, Aguilera is going to great lengths to reinvent herself - and not a moment too soon.

Of course, Aguilera is trying to give her listeners a pleasant surprise, not a nasty shock. The goal is to preserve the catchy tunes and the brassy voice while making the songs a little less sugary. It's a difficult task, but not an impossible one. You might even argue that she has already succeeded, on a track called "A Stroke of Genius," although it was created without her knowledge.

"A Stoke of Genius" turned up on the Internet late last year, credited to a producer known as Freelance Hellraiser. It starts with a taut guitar line and a brisk beat from "Hard to Explain" by the Strokes. Then a strong, beseeching voice sings, "I feel like I've been locked up tight for a century of lonely nights" - it's Ms. Aguilera singing "Genie in a Bottle." As the spliced-together song goes on, the Strokes' anxious beat makes a teen-pop classic sound like an ode to sexual entrapment. It's still sweet, but now you can taste the alcohol, too.

When asked what she thought of "A Stroke of Genius," Aguilera paused for a moment and then laughed. "I really, really loved it," she said. "I thought it was dope." And then, only half-joking: "That should have been how I came out with it in the first place!"

- Jane Magazine
4Read More Interviews & Articles