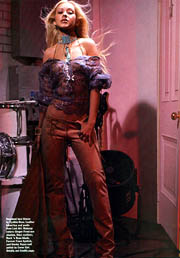 Strip Show

"I'm not trying to do as much vocal gymnastics. Before, to make up for the kind of music I didn't want to be doing, I would over-riff, to prove that I have talent. It was too much. For this record, everything's stripped down to the bare necessities."

Scream Therapy

"[Musician/producer] Linda Perry [formerly] of 4 Non Blondes taught me not to be scared of my voice. She'd say, 'You have to stop worrying about that technical stuff, the riffing and ad-libbing. Just let go and sing - whatever comes out' She's like, 'I hear something in you. You've got this repressed, darker side.' I think it's stuff from my past - my father and stuff. One of the new songs is more rock, and Linda got me singing/screaming for the chorus, 'I just want to get away!' It's about freedom. It's finding strength in myself."

Star Search

'Even when I was little, I knew I was meant to perform. I would watch specials on TV or videos of Janet or Whitney, and I would start crying because I was like 'I want that so bad!'"

Family Values

"I was raised by my mom and my grandma. They were supportive 100 percent about what I wanted to do. They were always saying, 'Now, there will be people who try to do this to you or that to you.' Even in my hometown, it was hard to find out who my real friends were because of the celebrity thing. But my mom was always like, 'This is going to your head! We're cutting off the singing!' So it was a very grounded situation."

Baby Steps

"Before my last tour, it was just me and label heads who were 20 years my senior. You grow up fast that way, but I had nobody on the road who liked to go clubbing and all that. Then when my dancers came into the picture, it was like, 'These are my boys! These are my dawgs!'"

Going to the Dogs

"Jorge [Santos], my ex-boyfriend, bought me both my dogs. They're papillons - they're so cute. They had to be small enough so I could travel with them. Stinky and Chewy are their names. They come on shorter trips. They're going to be mad at their mommy when I get back."

Almost Famous

"I was in this elevator with this drunk guy in Atlanta. I'd been working all night in the studio. He was like, 'You're Chrissstinnna Aguilerrra!' I was like, 'I'm her cousin.'"

Funny Business

[On Eminem obscenely trashing her in his 2000 song "The Real Slim Shady"] "When you insult a girl [like that] - I'm not going to go 'Ha ha What a kidder!' As women, we have to deal with enough crap like that. I'm going to retaliate. If you've got words to say to me, say them to my face. You can find my number through your people."

First Love

"I'm very career-oriented, plus I have vulnerability issues. My mom went through a really bad marriage, and seeing that hurt me. I thought, I'm never going to let a man do that to me. I thought of being in a relationship as being weak. But then when my relationship with Jorge happened, I wanted to give, I wanted to be there. I'd never even had a huge crush on a guy before. Then it just happened, on tour. We were dancing together, spending a lot of time together, and we fell in love. Even though we're not together anymore, we still work together. He's a really great person. And I love him."

Moulin Rude

"Everybody said, 'Don't do "Lady Marmalade,' it's too urban for you!' But I wanted to do it. The girls [Pink, Lill Kim, Mya and Missy Elliot] were great to work with - it was like, 'Let's play dress-up for a day!' If you're doing a video for a movie like 'Moulin Rouge' - I mean, it's about a whorehouse - you have to get up there in some fun costumes. I love taking chances."

Christina's Secret

"If I were home alone right now, I'd be wearing a white tank top and guys' briefs. There's a line of underwear called Skimpies. They're my favorite things."

Gut Check

"I'm a pretty petite girl. I have a fast metabolism, but my age has been kicking in this year, because all of the sudden I'm like, 'Where does this little stomach come from?' I feel it on my thighs too, so I'm getting a trainer. But not to lose anything, because I like being a little thicker."

Booty Call

"I love to see a girl with a good booty. Curves are supersexy. The thing I hate is a girl who's got big fake boobs and no butt. I'm like, 'What happened to her?'"

Boxing Christina

"My trainer and I box, but I haven't actually fought yet. As far as really going at it with somebody - we'll have to see what that's like. I want to get a ring put in my house - a real ring."

Christina Vs. Britney?

"Presenting with Britney at the 2000 MTV Awards was my favorite part of that night. Because we were on the Mickey Mouse Club together, we used to be best friends - and it's so weird how our careers have taken us to these places where there's this supposed rivalry. But I understand it because everyone's always looking for something to talk about."

Mulan's Rouge

"I love Stila Moonlight eye shadow - it's kind of a white frosty thing. I use regular eyeliner - Revlon ColorStay - and Max Factor mascara. I really don't like to pay too much attention to my lips unless I'm performing or something. I wear hard Candy in Blur (a light pink gloss), a lot of MAC, and Channel lipglosses. I like dots or stripes right down the middle of my nails. I've been using the same thing for my face since I was 12: I'm a total Noxema girl."

4Read More Interviews & Articles